Ceramic cookware can be an exciting addition to your kitchen because of its vibrant colors and functional build.
Since they mostly come in sets, getting each piece to create a satisfying assembly can be tempting. If you want an eclectic collection, you can also mix and match various colors from different lines and brands.
But if you have an induction cooktop or are planning on upgrading to one, you'll have to make sure your pans are magnetic. So the question is:
Does ceramic cookware work on induction?
This article will explore the functionality of ceramic cookware on induction stovetops. As a bonus, we'll also recommend the best ceramic pans for induction below.
---
What is ceramic cookware?
When you stroll through the kitchenware aisle, you'll usually see colorful pots and pans that easily catch your eye. Chances are, they're ceramic cookware and traditionally made from fire-hardened clay.
Some brands offer pure ceramic pots, while others have ceramic-coated pans. Note that ceramic-coated pans differ from 100% ceramic pots because they contain a metal core with a ceramic coating.
Ceramic-coated pots and pans are usually healthier than non-stick pans because they don't contain toxic chemicals (like PFOA or PTFE) that can leak into your food. Since their coating is silicone-based, it won't leach harmful fumes even if you heat them above 450°F (232°C).
---
Is ceramic cookware induction ready?
Ceramic cookware doesn't contain any ferromagnetic materials, so it won't be compatible to use on an induction stove.
The same goes for ceramic-coated pans, even if they have an aluminum or copper core. But there are certain brands that have induction-ready ceramic cookware, where they come with a built-in magnetic base.
To know whether your ceramic cookware is induction-compatible, the manufacturer will usually indicate it on the label. But you can also find the induction symbol etched on the bottom of the pots.
But if you're still not sure if you're cookware is magnetic, you can always find out by doing the magnet test. To do this, you'll need to stick a fridge magnet to the bottom of your pan. If it sticks, then it's good to use on an induction cooktop.
---
Can you use ceramic on induction stove?
If you like the way ceramic cookware looks and functions, you need to make sure the pieces you'll get have magnetic bottoms to be compatible with your induction stovetop.
But if you already have several non-magnetic ceramic pans at home, there's no need to throw them away. The trick to making regular cookware work on an induction stove is to use an induction interface disc.
It's a thin circular stainless steel plate that functions similarly to the magnetic bases of induction-ready cookware. It allows your induction stove to create a magnetic field to heat your pots and pans. To use, you'll need to position your interface disc on top of your burner before placing your chosen pan.
---
Is ceramic cookware good for induction?
Compared to cast iron skillets, ceramic pots are lighter and smoother, so there's less risk of breaking and scratching the surface of your induction stovetop.
With a good quality brand, you can even find ceramic pans that can heat evenly – especially when they have an aluminum or copper core that will improve their heat distribution. Because of their non-stick ceramic coating, frying won't be a hassle since food can easily slip around their surface.
But don't expect them to last as long as stainless steel pans because they usually only have a lifespan of 1-2 years. That's because their ceramic coating eventually chips off, making them difficult to cook with. But pure ceramic pans are a different story because they can last longer as long as you take care not to break or scratch them.
---
What is the best ceramic cookware for an induction cooktop?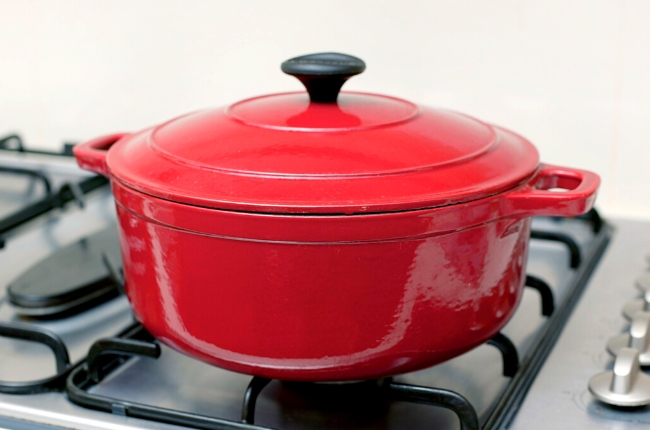 To help you figure out the best ceramic induction cookware for your kitchen, we'll explore the pros and cons of some of the most popular brands:
1. All-Clad Fusiontec Natural Ceramic with Steel Core Cookware
All-Clad is one of the top brands when it comes to cookware, so it's no surprise when they have their own version of ceramic pots and pans.
The Fusiontec collection comprises skillets, universal pans, soup pots, and stock pots containing a glossy ceramic coating with a steel core. They're also available in three stunning colors: black, rose quartz, and platinum.
Users notice how heavy these pans are, so this could be a pro or con, depending on how heavy you prefer your cookware to be.
The pans also heat up quickly and evenly, but you'd need to add a bit of fat or oil when frying to prevent food from sticking to the surface. But clean-up is easy if you let the pan cool down beforehand.
2. GreenPan Valencia Pro Ceramic Nonstick Cookware
GreenPan is one of the pioneering companies that created ceramic non-stick cookware in 2007. That's why they have several ceramic cookware in their collection, and the Valencia Pro is their best-selling set.
All the cookware in this line consists of hard-anodized aluminum with a diamond-infused ceramic non-stick coating. The collection contains frypans, saute pans, stock pots, a saucepan, a grill pan, and a griddle for a complete cooking experience.
Even though the pans are for heavy-duty cooking, users adore how light they are. Depending on how you use them, their non-stick coating can still work well even after a year of use.
But some notice that the frypans don't heat evenly on an induction stove because its cooking surface isn't totally flat. When boiling water, the heat primarily focuses on the center, and it takes a while before it spreads to the sides.
CHECK OUT: Does Greenpan work on induction?
3. Kyocera Ceramic Nonstick Frypan
If you're only missing a frypan for your kitchen, you might want to try the Kyocera Ceramic Nonstick Frypan. This sleek piece contains a black non-stick ceramic coating with a riveted stainless-steel handle, making it oven-proof for up to 400°F (204°).
It's available in 8, 10, 12, and 12.5 inches, so you can pick what size pan will fit your cooking needs best.
Users like that food can easily glide around its surface even without adding oil. Its high sides also make it easy to stir and flip foods without any spills.
But like other pans, its non-stick features begin to degrade after a few months of careful use. But you can restore some of its non-stick abilities by using a melamine sponge for cleaning.
4. Vremi Ceramic Nonstick Cookware
You may not be familiar with the name, but you might have come across the eye-catching Vremi Ceramic Nonstick Cookware collection. It's composed of die-cast aluminum cookware with a non-stick ceramic-coated interior. 
Aside from their vibrant yellow or blue colors, the pots and pans also come with wood-toned bakelite handles that fit right into any homey kitchen.
But as pretty as these pans are, cooking them on induction is hit-and-miss. The smaller ones tend not to work on induction (you have to match the size of the burner to the size of the pan). Good thing you can have them replaced if you find that they won't work on your induction cooktop.
Plus, their bakelite handles get too hot when cooking (not the handle itself, but you can easily touch the metal screws connecting the handle to the pan). Avoid putting them in the oven, as the handles will crack.
5. Caraway Ceramic Coated Cookware
If you're looking for pretty and functional ceramic cookware, Caraway has a complete set for you. They contain an aluminum core, non-stick ceramic coating, and polished stainless steel handles.
One of the most incredible things about them is their flat lids, making them easy to store without using a lot of space. The collection also comes in a variety of colors, including gray, cream, sage, and navy.
Users love how the pots and pans cook food evenly and clean as easily, but their coating tends to chip off after a while. Also, take note that the handles on the pans and lids turn hot when cooking, so remember to use a pot holder to prevent burning your hands.
---
Final thoughts
Ceramic-coated cookware was initially created as an alternative to non-stick pans when they contained toxic chemicals that can leach into your food when cooking.
But now that there are regulations that prevent manufacturers from adding them to their cookware, there's no need to stray away from non-stick pots and pans as long as you don't heat them above 500°F (260°C).
But if you want to keep it safe, you can always try one of the pans from our list above and see how well they perform on your induction cooktop. They may not have the same lifespan as other types of cookware, but with low-heat cooking and proper care, you might extend their lifespan for a few more months.