Discovering a good cookware brand for your induction cooktop can be exciting since you'll have a number of selections to choose from.
Whether stainless steel or ceramic, your perfect pan would ideally have the best quality at an affordable price.
So ever since you've heard about GreenPan's non-toxic and eco-friendly cookware, you've always thought about giving their products a try.
But your only question is: can you use GreenPan on an induction cooktop?
This article will review a few of their collections to see which is best for your induction cooktop. So if you want to find out which set has the best reviews, read more below.
---
What is GreenPan cookware?
GreenPan is a Belgian cookware brand started by Jan Helskens and Wim De Veirman. Since they saw the prevalence of microplastics in our environment, they wanted to create non-stick pots and pans that don't release toxic chemicals when overheated.
So by 2007, they released their first non-stick pan with their signature Thermolon technology. It's a plastic-free coating derived from sand, so it doesn't contain PFOA, PFAs, cadmium, or lead.
They also boast a sustainable manufacturing process, using recycled aluminum to create their products.
GreenPan currently has a wide selection of cookware, bakeware, utensils, and kitchen appliances to accommodate your kitchen needs.
But with the number of cookware options they have available, will GreenPan work on induction?
---
Is GreenPan induction compatible?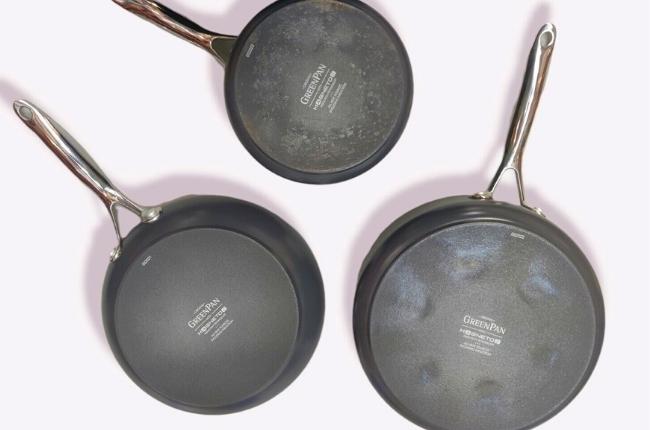 Since non-stick cookware can make cooking and cleanup easier, it's nice to know there's a brand that cares about creating non-toxic pots and pans.
So considering they have a large selection of cookware, are GreenPan induction compatible?
GreenPan currently has over 20 cookware collections, but only 10 of them are induction-compatible.
Their induction-ready collections utilize their Magneto technology that combines ferromagnetic and copper particles. So each cookware has a durable integrated base that keeps your pans from warping.
This combination also ensures that you'll get consistent heat distribution when cooking, so you won't have to deal with cold spots.
---
Does GreenPan Rio work on induction?
The GreenPan Rio collection contains a variety of ceramic non-stick saucepans, fry pans, saute pans, and stock pots that use their trademark Thermolon coating.
Their diamond-reinforced interior also creates a scratch-resistant surface, making them ideal for frying and searing.
An eye-catching feature that this collection has, is they're available in black, turquoise, pink, and red – so you can have the freedom to collect the whole set or mix and match each color.
Although each pot and pan in the collection has a flat bottom, their aluminum base makes them incompatible with induction stoves. So they're only ideal to use on gas and electric stovetops.
---
Is GreenPan Padova induction safe?
The GreenPan Padova collection consists of hard-anodized aluminum fry pans, saute pans, saucepans, stock pots, and a grill pan with a scratch-resistant ceramic non-stick coating that's perfect for everyday use.
Its relaxing light blue hue also makes it an excellent addition to your kitchen without having to worry about overwhelming your decor.
But its aluminum build makes it difficult to use on an induction cooktop since it doesn't have a built-in magnetic base. So unless you have an induction interface disk handy, the Padova collection won't be a functional set for your kitchen.
---
Does GreenPan Premiere work on induction?
The GreenPan Premiere collection is a combination of hard anodized aluminum and tri-ply stainless steel saucepans, fry pans, saute pans, and stock pots with a ceramic non-stick coating that claims to resist scratching from metal utensils.
Unlike most of their collections, the Premiere line is exclusively available at Williams Sonoma, so you can scroll through their official site if you're interested in getting this line.
A great feature of this collection is that all pots and pans are induction-ready as they have a built-in Magneto base that ensures even heating, so you can cook even the most delicate dishes without the fear of burning them.
---
Which GreenPan is best for induction?
To save you some time and money from testing one collection to another, here are a few of the most notable GreenPan induction-safe collections that most users adore:
1. Valencia Pro
The GreenPan Valencia Pro collection consists of a variety of hard-anodized aluminum fry pans, saute pans, stock pots, saucepans, grill pans, and griddles with a design that has durability in mind.
All cookware in this collection has the signature GreePan Magneto base technology, so you're free to sear, fry, and saute without the risk of warping your pans in the long run.
The Valencia Pro collection is one of the brand's more popular lines as users love its lightweight and non-stick capabilities considering its price. It even passes the test of frying an egg without using any oils and butter.
But one thing that most users notice is that its non-stick coating is more delicate than most non-stick pans as it's notorious for chipping.
Although GreenPan claims that this collection is safe to use with metal utensils, it's still recommended to use silicone and wooden utensils to prolong their lifespan.
2. Venice Pro
The GreenPan Venice Pro collection is a combination of 3-ply stainless steel fry pans, saucepans, saute pans, a chef's pan, and a wok that's layered with their Thermolon ceramic coating.
Since each cookware consists of stainless steel materials, they're naturally magnetic and safe to use on an induction stovetop. The collection also utilizes GreenPan's Evershine technology, which keeps its exterior pristine and stain-resistant.
If you prefer to have your cookware with a striking look, The Venice Pro Noir collection is also available. The only difference between the two is that the Noir line has a matte black non-stick coating that creates a contrasting look against its stainless steel exterior.
One downside to this collection is it's heavier than other GreenPan cookware, so you'll have to be careful when moving them on your induction cooktop to prevent scratching its glass surface. 
Their ceramic non-stick coating also tends to scratch off after a few months of use, so you'll have to be cautious if you want your pans to last.
3. Treviso
The GreenPan Treviso collection contains a selection of stainless steel fry pans, a saucepan, a saute pan, and a stock pot. Although it doesn't have an extensive selection as their other collections, its pans are fit for everyday use.
Like most GreenPan cookware, each pan in this collection has its signature diamond-reinforced ceramic non-stick coating that gives an excellent slip when cooking. Users also adore its encapsulated stainless steel base as it ensures you'll get efficient and even heat when preparing dishes.
But the common drawback of this collection is how easy their ceramic non-stick coating chips off. While some users experience having food stick on its surface.
---
The bottom line
Although ceramic non-stick cookware can be convenient to use for cooking on an induction stove, GreenPan has a reputation for chipping and scratching easily after a few months of use.
So if you're planning to get a new set of GreenPan cookware, you'll need to set your expectations that it will not have the same life span as a cast iron skillet or uncoated stainless steel pan.
But to extend its longevity, GreenPan recommends you avoid high heat and spray oils when cooking, as this combination will produce carbonization that will cause food to stick to its surface.
If this happens, scrubbing its surface with a melamine sponge can get rid of the residue.
Although most of their cookware is metal utensils-safe, using silicone and wooden utensils will also help extend their lifespan.