Are you one of the home cooks that's drawn to collecting non-stick cookware because of their ease and convenience?
With their slippery surface, cooking delicate dishes like eggs and pancakes is a breeze since there's only minimal cleanup needed.
But if you're thinking about switching to an induction cooktop, one of your primary concerns may include the question:
Does non-stick pan work on an induction stove?
To settle your worries, this article will explore the usability of non-stick pots and pans for induction cooktops. Since we don't want to leave you hanging, we'll also find out which non-stick induction cookware set and pieces have the most bang for your buck.
What is non-stick cookware?
If you can believe it, the coating of non-stick cookware was actually invented by accident when Roy Plunkett intended to create tetrafluoroethylene gas. He became astounded when he found a white and waxy substance the next day.
After further analysis, he realized that the substance was polytetrafluoroethylene (PTFE). Because of its slippery finish, he patented the formula in 1945 and called it Teflon.
But the first non-stick pan was only invented when Marc Gregoire figured out a way to fuse PTFE with aluminum. He and his wife then sold their cookware in France, and by 1956, the Tefal Corporation was born.
Since then, many brands have followed in their footsteps and created their own versions of non-stick pots and pans.
It's an everyday favorite among several home cooks because of how easy it is to fry foods that tend to stick to the surface. In turn, clean-up is also less of a hassle since you don't have to spend a long time scrubbing burnt food off.
Is non-stick coating still toxic?
If you're shopping for any type of non-stick cookware, you might have come across a label saying it's PFOA and PTFE-free.
That's because the safety of non-stick coating is still questioned because of how its chemicals react when exposed to high heat.
At temperatures above 660°F (348°C), your pan can emit toxic fumes that cause flu-like symptoms like fever, headache, and chills. But when it reaches a temperature above 680°F (360°C), it can leach out several harmful gases, which can lead to cancer.
But there's no need to panic because strict safety measures have been set up since then, and manufacturers haven't used PFOA for making their cookware since 2015.
Experts also confirm that the risk of inhaling enough toxic fumes to make you sick is slim. But it's still advised to follow the manufacturer's guidelines when using your non-stick cookware for your safety. 
Does non-stick pan work on an induction stove?
On that note, since using non-stick pans aren't as dangerous as before, that's one less reason to get rid of your collection. But if you're set on upgrading your kitchen to an induction stove, you might need to sort through your non-stick pots and pans after all.
Since non-stick cookware is usually made of aluminum, it's not naturally magnetic, so it won't work on an induction stove. But there are pieces available that are induction-ready; you just need to look for ones with a magnetic base attached.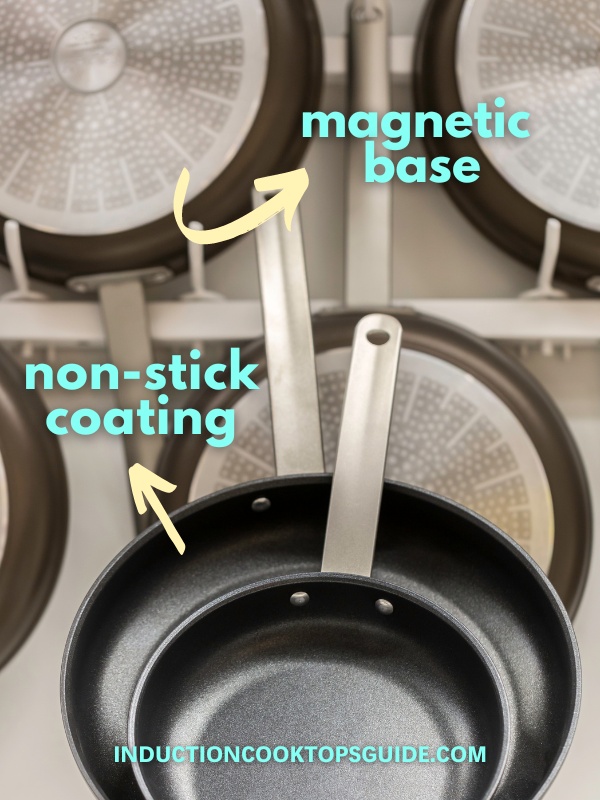 The manufacturer will usually indicate if their non-stick cookware is induction-compatible.
But if you're still not sure, you can always do the magnet test. It's where you place a fridge magnet on the bottom of the pan, and if it solidly sticks, then it's good to use.
How to use a non-stick pan on an induction stove
If you have a few non-stick pots and pans that are not induction-compatible, there's no need to throw them away because there's still a way to use them.
You just need an induction converter disk that can fit on your burner. It's a stainless steel plate that acts as the magnetic base so your induction stove can successfully transfer heat to your pan.
Once you sort that out, you can then use your induction cookware like normal. But if you want your pots and pans to last longer, here are a few tips and tricks you can follow:
Avoid using metal utensils when moving food around because that will scratch the surface of your pan. Use wooden, silicone, or nylon utensils instead since they're more gentle.
Remember not to preheat an empty pan for too long, or else it will easily heat up to a very high temperature.
Once you're done cooking, let the pan cool down completely before soaking it in water to prevent the coating from degrading.
Never use abrasive cleaners and sponges since they will scratch the coating off your non-stick pan.
If you're still wary about the toxic chemicals from the coating, it's best to replace your cookware once they start to show signs of wear and tear.
Non-stick pots won't have the same lifespan as cast iron and stainless steel pans, but you can probably get a few years of use from them with proper care.
What is the best non-stick induction cookware?
Finding the right non-stick cookware can be a little tricky since not all expensive brands will guarantee your pots will last a long time.
So to save you the trouble of finding the best non-stick pan for induction, here's a quick breakdown of the pros and cons of some of the well-known sets in the market:
1. All-Clad D3 Stainless 3-ply Bonded Cookware
All-Clad is one of the top go-to brands when it comes to stainless steel cookware, so it is safe to assume that their D3 Stainless 3-ply Bonded collection could live up to its name.
The line combines fry pans, saucepans, a saute pan, and a stock pot built with a stainless steel body and an aluminum core. Each pot and pans have a PFOA-free non-stick coating, making it easier to cook delicate dishes.
Users like that the cookware's build is durable, but the weight can be an issue because it's heavy. But it can cook evenly, and food can glide easily, even with just a little bit of oil. As a result, cleanup is also effortless because you won't need to scrub off a big mess.
The only problem is that their non-stick coating can peel off in big chunks as early as 3 weeks of use, even after careful maintenance.
Some users also don't see it necessary for the stock pot to have a non-stick coating because you won't be frying delicate foods on it. But All-Clad does have the option to let you buy the set of 2 non-stick fry pans only.
2. Made In Non-Stick Set
Although Made In is a fairly new company, co-founders Jake and Chip's expertise stems from over 100 years of experience in their family-run restaurant supply business. Their Non-Stick Set is definitely worth looking into because it's made for use in professional kitchens.
The line consists of a saucepan, frying pan, saute pan, and stock pot with a 5-ply Stainless Clad build and 2 layers of professional-grade PFOA-free non-stick coating. The coating also comes in 2 colors, so you can choose between graphite or harbour blue to match your kitchen.
Users are ecstatic by how much these pans exceed their expectations since they're well-built and durable, considering their price. A bit of food can get stuck to the surface of the frying pan if you cook on it for too long, but clean up is painless since you can remove it easily.
Some users are not a fan of the rivets not having the non-stick coating since food can easily stick to it. The sides of the frying pans are also too steep for some, making flipping food more challenging.
Lastly, their handles can also get hot if you hold them too close to the body, so it's better to use a pot holder to prevent burning your fingers.
3. T-fal Professional Total Nonstick Cookware
Since T-fal is the pioneering brand for non-stick cookware, it would only be natural for your expectations to be high.
They have quite a few T-fal non-stick induction cookware available, but their Professional Total Nonstick set is one of their best-sellers.
It's also one of the most affordable collections on this list, considering it's a 12-piece set. It includes fry pans, saucepans, a Dutch oven, a steamer insert, and a one-egg wonder with an aluminum body and a hard Titanium reinforced non-stick coating.
Users like how they're easy to use since they heat quickly and evenly, and the food can glide without any problems. But the one egg wonder pan is completely useless on an induction stovetop since it doesn't have a magnetic base.
The biggest concern for this cookware set is that their magnetic bottoms tend to corrode and separate from their body if you only wash them in a dishwasher. So if you plan on getting this set, it would be best to handwash them instead.
4. ScanPan HAPTIQ Cookware
ScanPan is a Danish company that provides sustainable cookware using recycled aluminum to create their pans. Their HAPTIQ collection is one of their most well-known lines because of its sleek finish and durability.
It consists of fry pans, saucepans, a saute pan, and a Dutch oven. Each pot and pan has a 5-ply stainless steel construction with a commercial-grade non-stick coating.
Be warned that the pans can be heavy but their ergonomic handles help balance their weight. Users like that they can retain heat really well, and their non-stick surfaces are easy to work with.
The only downside is that their coating doesn't last long since they start to scratch and chip after using them for only 1 year.
5. Le Creuset Toughened Non-stick Pro Cookware
Le Creuset is another big name when it comes to cookware, and you might already be familiar with their colorful Dutch ovens. But for variation, they also have their Toughened Nonstick Pro line that's perfect for everyday use.
It's a collection of fry pans, saucepans, a saute pan, and a stock pot with hard-anodized aluminum bodies and triple-reinforced PFOA-free non-stick coating.
Note that these pans can be heavy, which can be good or bad, depending on your preference. But users adore how sturdy and reliable they are because they can heat evenly, retain heat well, and stays non-stick even with a bit of oil or butter.
But their non-stick coating can be disappointing since they start to chip off after 3-4 months of use, even without using any metal utensils.
The bottom line
Non-stick cookware can be convenient for a busy home cook since they lessen the effort of cooking and minimize the hassle of cleaning.
Induction cooktop users don't have to miss out on them as certain brands offer a variety of induction-ready non-stick pots and pans.
The only difficult part of obtaining one is choosing the right brand that can last a long without breaking the bank.
So if you're looking for suggestions, you can look through our list to see which ones will fit your cooking preferences the best.
But don't expect your non-stick pots to last as long as cast iron skillets since their coatings will inevitably peel off no matter how careful you are.
If you want to extend their lifespan, make sure to refer to the manufacturer's instructions and remember to only handwash them at any cost!