As a home cook who enjoys creating delightfully delicious meals at home, having high-quality cookware can make a big difference in your cooking experience.
So if you've recently switched to an induction cooktop, it's only natural to pair it with the best pots and pans.
But despite the number of cookware brands in the market, All-Clad is often mentioned as one of the best options out there.
So now that you're ready to add another set of cookware to your kitchen, you're curious to try out the brand. But before placing it in your shopping cart, you do have one question:
Is All-Clad induction ready?
Since All-Clad has several cookware collections under its belt, this article will break down some of them to figure out which line works best on induction cooktops.
---
What is All-Clad cookware?
All-Clad is a cookware brand created by John Ulam in 1971. Thanks to his interest in home cooking, he thought about using his expertise in metal crafting to create the perfect cookware.
This resulted in a layered stainless steel and aluminum pan that provides even heat absorption, easy cleaning, and durability.
Since then, All-Clad has created around 10 cookware collections that cater to any cooking style. Since they take pride in upholding the same quality standards throughout the years, you can expect that every set you get will perform excellently.
But although they do have an extensive collection of pots and pans available, you can't help but wonder: is All-Clad induction compatible?
---
Does All-Clad cookware work on induction cooktop?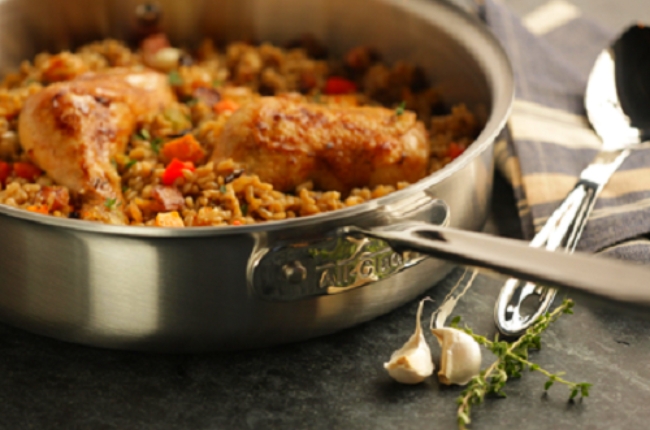 One of the best features of an induction stove is its ability to cook precisely and efficiently, but to activate these, you'll need to use specific cookware.
Since it utilizes electromagnetic energy, you'll need magnetic pots and pans to create a magnetic field.
Since you're considering getting a specific brand of cookware, does All-Clad work on induction cooktops?
Most All-Clad pots and pans are induction-compatible, but it will also depend on which collection you choose. Since some have built-in magnetic bases and some don't, you'll need to be particular if you want to get the right one.
---
Does All-Clad stainless steel work on induction?
Since All-Clad started with the invention of its multi-layered pan, they've mastered the craft of creating high-quality stainless steel cookware since then.
That's why All-Clad's current stainless steel pots and pans come with one or two layers of aluminum. Since it's an excellent heat conductor, it will ensure your cookware will heat faster and have better heat absorption, so you won't have to deal with cold spots while cooking.
What's more, their bases are magnetic stainless steel, so they're compatible with induction stoves.
But if you're still not sure, you can always use the magnet trick to see if your pans are magnetic. If the magnet sticks to the bottom of your cookware, it means they're good to use on induction.
---
Does All-Clad D3 work on induction?
The All-Clad D3 Stainless collection is a combination of tri-ply stainless steel and aluminum pots and pans, so they're perfect for daily use.
The collection consists of various fry pans, saute pans, stock pots, skillets, and Dutch ovens, so you can pick which cookware you'll need. 
Their D3 Everyday line also has modified versions of a few pieces from their classic D3 Stainless collection, so they have drip-free pouring rims that make plating your dishes easier.
The entire D3 collection has a magnetic stainless steel base, so they're great for all stovetops, including induction.
Some users may experience food sticking on its surface, but you just need to preheat the pan well prior to cooking.
---
Does All-Clad D5 work on induction?
The All-Clad D5 collection consists of 5-layered stainless steel and aluminum pots and pans. Although these additional layers make these pots heavier than the D3 collection, these alternating layers ensure your pans will get better heat absorption and reduce warping.
The collection contains a selection of saucepans, saute pans, fry pans, and stock pots, so you can take care of all your cooking needs in one line.
Similar to the D3 collection, the D5 line also has drip-free pouring rims, so you won't have to worry about creating a mess when pouring food out of the pans. The cookware also has a magnetic stainless steel base, so they're great to use on an induction cooktop.
Because its core combines stainless steel and aluminum, D5 pans will heat slower but absorb heat more evenly, so users find they work better on induction stoves. Some also find their ergonomic handles uncomfortable to grip, so it's better to look at their products in-store to see if you're comfortable with their design.
---
Can you use All-Clad Copper Core on induction?
The All-Clad Copper Core collection is a selection of 5-ply stainless steel, aluminum, and copper cookware built for optimal heat absorption and durability. Since copper has better thermal conductivity than aluminum, its addition to the pans makes them react better to heat.
The line consists of a number of saute pans, stock pots, and fry pans that can handle the wear and tear of daily use.
Like most All-Clad cookware, the Copper Core collection also has a flat magnetic stainless steel bottom, so they're ready to use on an induction cooktop.
Although its build appears thinner than D3 cookware, Copper Core pans are heavier, so you must be careful when cooking on induction to prevent scratches.
---
Which All-Clad does not work on induction?
If you've tried cooking with any All-Clad cookware, then you know how well they perform compared to other brands.
But as much as you want to have all of their pans induction-compatible, their Essentials Hard Anodized collection doesn't come with a magnetic base.
If you're not familiar, the Essentials Hard Anodized line comes with a PFOA-free non-stick coating that makes frying and searing easier.
Although they're not as durable as their stainless steel pans, their hard-anodized aluminum exterior can still provide excellent results. But if you only have an induction cooktop at home, this collection may not be the best option for you.
If you still prefer to have hard anodized aluminum pans, better get the All-Clad HA1 collection since their pots and pans have a stainless steel induction plate attached at the bottom, making them induction-ready.

Unfortunately, both the Essentials and HA1 collections are made in China. Only the All-Clad Stainless Steel line is made in the USA.
---
Which All-Clad is best for induction?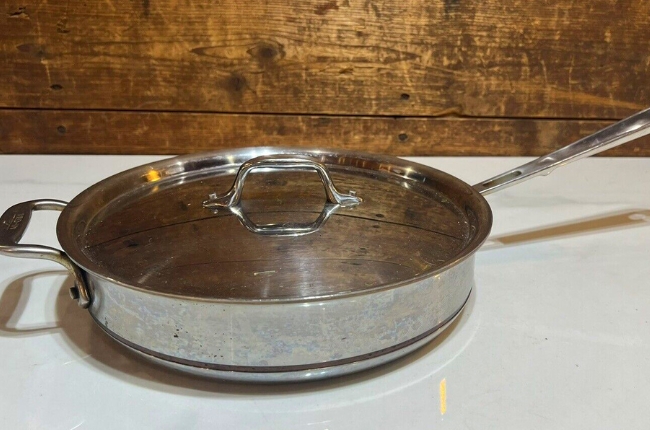 Considering that most of All-Clad's cookware is induction-compatible, there will always be one collection that users will gravitate to the most.
Looking at All-Clad induction cookware reviews, most users seem to favor their D3 collection as it delivers excellent results at a reasonable price.
Although the D5 collection has better heat absorption, users don't see significant differences in performance. While All-Clad's Copper Core line provides superior results, its weight and price point may deter home cooks from investing in them.
That's why users are content with D3 pans for their induction stoves, as their lightweight build and fast heat response make them convenient for cooking daily meals. Plus, its aluminum core does an excellent job of absorbing heat evenly, so you won't have to deal with cold spots.
---
The bottom line
All-Clad cookware may be notorious for having a high price point, but its quality and durability make them a worthy investment for your kitchen.
Since most of All-Clad's pots and pans are induction-compatible, you'd have a wide array of cookware selections to choose from.
You do have the freedom of choosing a few pieces from each collection – but if you want to stick to one set, the D3 collection seems to have the most bang for its buck. Its aluminum core provides excellent heat absorption, making cooking a breeze on your induction stove.
But if you prefer to have a variety of cookware in your kitchen, the D5 and Copper Core collections are also excellent upgrades. Though they're pricier than the D3 line, they have their advantages for cooking on induction.