You might agree that an induction burner is one of the best investments in your kitchen. It improves your cooking speed and precision, so it's no wonder home cooks are switching to induction.
But if you want your induction cooktop to last, you'll want to treat it kindly since its surface is prone to stains and scratches.
There are several ways you can reduce these from occurring, and an induction cooktop protector mat is one of the most practical accessories.
So if you're not sure which protector mat you should get for your cooktop, this article will look into some of the most known brands in the market to help you decide.
---
How do you protect the surface of an induction cooktop?
Since induction cooktops have a glass-ceramic surface, they'll be able to handle high-heat cooking techniques. But when it comes to scratches and smudges, they might not be as insusceptible.
If you want to add a layer of protection over your burner, you can lay a paper towel or parchment paper. This will avoid direct contact between your cookware and the burner, so they'll be fewer chances of leaving any marks if you tend to shake them when cooking.
Plus, the paper towel will catch any spills and splatters, so you'll have less to clean up later.
But if you don't want to throw away a layer of paper towels every time you cook, you can also get an induction cooktop silicone mat. It functions the same way as the paper towel but is washable and reusable.
---
What is an induction cooktop protector mat?
An induction cooktop protector mat helps shield your burner from any unwanted scratches so it can maintain its pristine condition longer.
It comes in various shapes, sizes, and materials, so you can have your pick on which mat best fits your cooktop.
But when selecting a magnetic mat for an induction cooktop, you should choose one with high heat resistance so you don't have to worry about deteriorating it when cooking. Constant exposure to high heat can make silicone discolor and lose some of its thickness, making it last less than intended.
That's why you should find a mat that can withstand at least the smoking point of peanut oil. So a mat that can resist a temperature of 450°F (232°C) and above would be great for cooking on induction.
---
Should I use a mat on my induction cooktop?
Using a protector mat on your induction cooktop can be beneficial for its aesthetic and lifespan, but it will also depend on which type you choose.
So if you want to get the best protection for your burner, here are a few things you'll need to consider:
Can I use a Silpat on my induction cooktop?
Silpat is a brand of non-stick silicone mat developed by Guy Demarle in 1965. It was originally used to make the process of baking baguettes easier. Since it stops the bread from sticking to the surface of the baking sheet, it maintains its shape and appearance after baking.
Because of its functionality, the Silpat mat has grown in popularity in professional and amateur kitchens – and they're now used for keeping bread and pastries intact.
Considering it's made of silicone, some induction stove users utilize it as a protector mat. Though it can withstand temperatures from -40°F to 500°F (-40°C to 260°C), users notice that it tends to melt under high heat.
Since it's not optimized for stovetop cooking, it's better to save it for oven use – unless you want to scrape off melted Silpat mat off your cooktop.
Should I use a silicone mat on my induction cooktop?
Scratches around your induction stove may be unpleasant to look at, so if you don't want to add more marks around its surface, you might benefit from using a silicone mat.
But before picking just any type, you have to make sure it's a silicone mat for a glass cooktop so you can get the most out of its features.
Aside from saving your burner from scratches and stains, it can also stop your cooktop from vibrating, so it reduces the buzzing sound it produces when cooking.
The only downside is that the mat can discolor over time due to the heat, so it's best to have multiple mats to alternate so they'll have a longer lifespan.
---
Which is the best induction cooktop mat?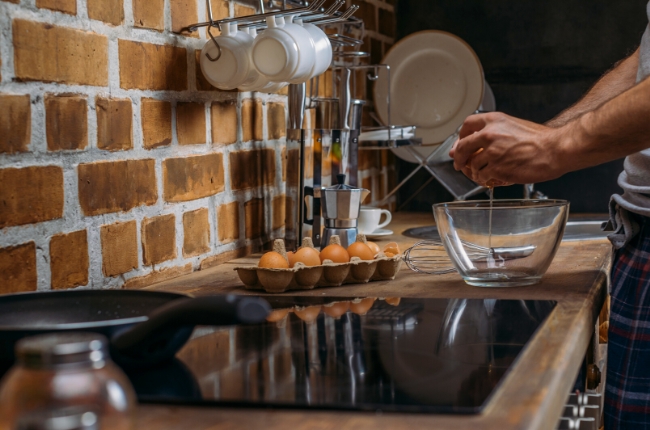 Considering there are a number of cooktop mat brands available in the market, deciding which one to pick can get overwhelming.
Whether you're looking for a Wolf induction cooktop mat or a Bosch induction cooktop protector, the one you choose should accommodate your cooking needs and stovetop the best. So to help you decide, here's a quick breakdown of some of the most popular brands:
Lazy K induction cooktop mat
The Lazy K induction cooktop mat is one of the most affordable options in the market. It consists of silicone and fiberglass, so it's flexible and durable enough for cooking. 
It's also safe to use for the oven and microwave, as long as the temperature doesn't go beyond 480°F (249°C).
It does an excellent job of keeping your cookware in place, eliminating the chances of your pans slipping and spinning when cooking.
But because of the thickness of its material and its diffusing features, users find that it takes their cookware longer to heat up.
If you often use a cast iron pan for cooking, the Lazy K mat might not be the product for you since it will smoke and burn if you use it with high heat. Some even have to clean up burn marks on their stovetop when left for a prolonged period of time.
Sungrace induction cooktop mat
If you're looking for a protector mat with an attractive design, the Sungrace induction cooktop mat might be suitable for your taste. It has a simple geometric pattern that can fit into almost any kitchen style, so you won't have to worry about it clashing with its contents.
It also comes with a built-in ring, so you can easily hang it over your cooktop without disrupting its aesthetics.
It has a heat resistance of 420°F (215°C) and is also safe to use in the microwave.
But design aside, some users find that the Sungrace protector mat easily burns down even when they're only cooking with low heat. A few have experiences where its silicone pattern sticks to the induction burner, ruining the mat permanently.
KitchenRaku induction cooktop mat
The KitchenRaku induction mat is a combination of fiberglass and  BPA-free silicone, so they're non-stick and have a heat resistance of up to 450°F (232°C).
They're also safe to use in a microwave, oven, and air fryer, as long as you keep the heat medium-low. Similar to the Sungrace mat, it also has a built-in hanging loop for convenient safekeeping.
Most users like how the mat protects their induction cooktops from scratches by keeping their pans in place when cooking.
They still discolor after cooking with high heat or for extended periods, but the users don't seem to mind.
There are still a few that have their KitchenRaku mats burn down and leave a white residue over their burner, so it's better not to use this mat over high heat if you plan on getting one.
LoMi cooktop mat
If you don't want to risk melting a silicone mat over your induction burner, the LoMi cooktop mat might better fit your cooking needs.
They're made of woven fiberglass and come in a variety of sizes and colors, so you have a wide array of options to choose from.
LoMi currently has 3 lines of protector mats that are fit for induction, each of which has its own heat resistance. But LoMi mats can withstand temperatures as high as 1050-1832°F (565-1000°C), so they're built for heavy-duty cooking techniques.
LoMi mats are pricier than most on this list, but users adore their effectiveness and quality. The only downside to these mats is that the spills and splatters can be difficult to get rid of, making them lose their luster over time.
---
The bottom line
Some home cooks have no problem keeping their induction burners pristine, even without using a protector mat.
But even if you are careful about using your burner and still notice a few scratches, you might benefit from adding some protection.
Paper towels and parchment paper are always effective, but if you want a longer-lasting solution, you can also get an induction cooktop protector mat.
You can look through our list above for some recommendations, but always keep in mind to choose one that can withstand high heat so you won't have to scrape off a melted mess later.