Induction is the new rage in the kitchen nowadays. With all the benefits of induction cooking, it may seem like you're missing out on the fun and efficiency if you don't buy them.
However, what everyone doesn't seem to tell you is the variety of induction cooktops available in the market and the hefty price range. Meanwhile, you also have cheaper alternatives that don't look so bad.
So, why are induction cooktops so expensive? Is it worth it?
Why are induction ranges so expensive?
Induction cooktops seem daunting to understand. Doesn't it look like witchcraft when you look at your water boiling without any fire to heat it?
But don't hold your breath because it is not some Hogwarts stuff. It is merely electromagnetism at play.
When you turn on your induction cooktop, an alternating current flows through the metal coil, usually copper, underneath the glass surface. The alternating current creates a fluctuating magnetic field.
And what ultimately happens due to this changing magnetic field is that your induction-compatible cookware heats itself while the cooktop remains cool. 
There's more to induction cooktops than not being a fire hazard.
Induction offers precise temperature settings and is easy to clean since all induction cooktops have smooth surfaces. 
It doesn't produce heat, so your kitchen remains cool. Moreover, the heating process is efficient, which also means you save energy.
Types of Induction Cooktops
You can find three types of induction cooktops in the market: freestanding, built-in, and portable induction units.
1. Freestanding
Freestanding units are either hard-wired or simple plug-in units with a slide-in design. They can be placed anywhere in the kitchen and can stand independently. You also don't need extra installation work on your kitchen counter to fit these slide-in units.
An example of a freestanding induction is an induction range.
An induction stove range or induction range looks like your typical gas range that comes with an oven. It is also known as an induction oven. It means a regular convection oven with an induction stovetop — much like how your typical gas range appears. 
Induction ranges are expensive because they both have a stovetop and an oven, unlike portable or built-in induction.
You also need to consider the overall technology, the number and size of burner zones, safety and ergonomic design, power requirement, and aesthetics.
Even the storage capacity and the number of ovens integrated into an induction range matter!
You also open yourself to various innovative technology options when you buy an induction range. For example, the GE Café induction line can connect to Google Home and Amazon's Alexa.
2. Built-in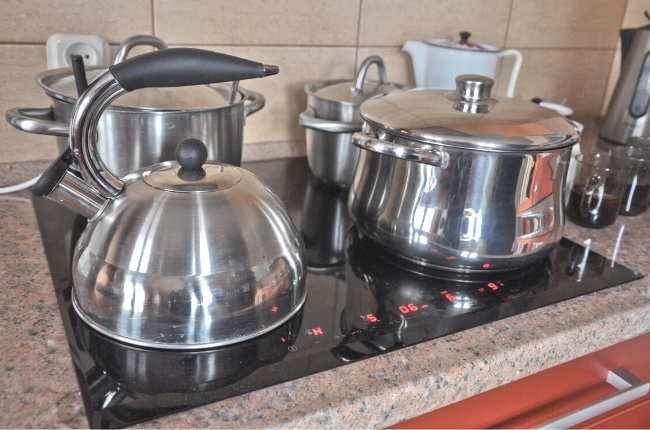 The following induction units are probably the sleekest of them all. Built-in types seamlessly integrate your induction cooktop into your countertop. If you like minimalism on your kitchen counter, a built-in induction provides what you need.
3. Portable
The last type is a favorite for its lightweight and compact design. You only need an electrical source to put any portable induction unit to work. It doesn't require a large space or particular installation.
Cheap vs. expensive induction cooktop
It is overwhelming to step foot into the topic of induction selection, especially when inquiring about the difference between cheap and expensive induction hobs. People will tell you it's not only the brand!
So, what is it?
Smart technology
It's fair to say that the more convenient it is, the more pricey it will be.
Some built-in induction has wifi and can connect to your smartphone for better monitoring. Others, like Samsung, have a virtual blue flame to keep the contemporary look in your kitchen. Touch panels are also more expensive than press buttons.
Aside from aesthetics, you can also find safety controls, automatic timers, pan detection, guided displays, diagnostic tools, and intuitive cooking features on expensive induction cooktops. That's only a small list of what you can find nowadays.
The technology that these brands incorporate is boundless!
And while it may take a learning curve, these features make for less hassle in the long run.
Internal safeguards
A commercial induction differs in price from a portable at-home one partly because it protects the internal electronics from moisture and grease.
Think about restaurants with midday service. The amount of food going in and out will cause spills that can damage the circuit boards of the induction over time. Safeguards like conformal coatings act as sealants to prevent such circumstances, ensuring a longer lifespan.
An extra line of defense makes for a heavy-duty induction cooktop. And it usually gets reflected in the price as well.
Power rating
Power rating is probably one of the most significant factors when discussing price differences. Here's why: the higher the power rating, the less time it takes to reach the intended temperature.
Inductions with 1000 W-1800 W ratings are of decent quality and would ensure reliable cooking performance. This power range, however, also depends on burner size — a 7-inch burner can put out 1800 W, while 11-inch burners have power ratings of 3700 W at the highest setting.
With commercial-grade induction made for heavy-duty cooking, maximum wattage can go very high; e.g., the Cayenne HD induction range can require up to 11,600 wattage (2500-2900 W per hob). Given this type of efficiency, it's no wonder a unit can cost over $12,000!
Cooking zones
This is no surprise, but the more burners you have, the more pricey it gets. But it's not only the number of cooking zones that you need to be aware of. Price also goes up for larger-sized cooking zones that require more wattage.
A unit like the Thermador 36-in induction cooktop boasts 56 induction elements with automatic pan size, shape, and position detection. This limitless placement makes it an absolute splurge, albeit a worthwhile one.
Temperature control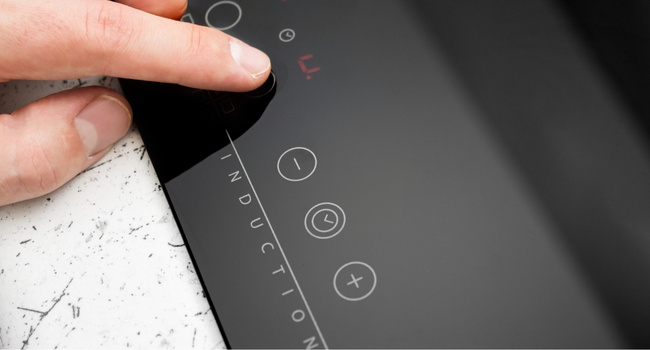 As much as convenience makes for a higher price, so does precision.
Models like Breville's Control Freak induction cooktop achieve such a high degree of accuracy that it can heat the cookware to the exact degree and even control the pace at which it reaches the temperature.
Such superb control makes a single portable burner like Control Freak more expensive than other induction ranges. The more temperature settings and presets a unit has, the more it will likely break the bank.
Cooking surface
The glass surface of an induction cooktop may give the impression that it's readily breakable, but it's actually quite strong.
Ceramic glass offers the advantage of both glass and ceramics. It has the smoothness and reflective quality of glass while maintaining the thermal resistance and durability of ceramics. It can withstand high temperatures of about 1200 F.
Schott Ceran, a leading iconic black glass-ceramic surface manufacturer, utilizes intense testing to ensure quality.
During a "ball drop test," a 500-g steel ball falls at the height of 51.4 cm at full speed right onto the cooking zone and does not damage it. Impressive, right?
Generally, the thicker the glass surface is, the more durable it will be. Most reliable cooktops in the market have a ¼ inch (6 mm) thick cooking surface. However, it can go as low as 4 mm with the newer options.
The rigorous manufacturing process of the glass is integral to its quality and, therefore, its price.
Are cheap induction hobs any good?
It's not the end of the world if you can't afford the more pricey models on the market yet.
You don't even need to get the best one out there! You merely have to choose one that fits your home and your budget.
Without further ado, here are four induction hobs you might want to consider. 
1. AEG MaxiSense IKE64450F
This is a built-in induction hob with a self-sizing feature. It can detect the size of pots and pans and adjust to it. It also does not lack in terms of temperature variation and comes with a power boost.
2. Tefal Everyday IH201840
This portable hob has five temperature presets and nine power levels. It has glowing reviews and will definitely not put a hole in your pocket.
3. Neff N 50 T36FB41X0G
It comes with an excellent performance and energy consumption of just 3.7 kilowatts means lower electricity bills. This induction hob has four cooking zones, nine power levels, and a touch control setting.
4. Bosch Serie 2 PUG61RAA5B
If you are the type to choose an induction hob for its aesthetics, this trusted German brand may not be your cup of tea as it has bold circular zones. Aside from that, this model has four zones, has a power boost, and you can plug it directly into a 13 amp socket.
Final Thoughts
It may seem overwhelming to consider every nuance involved in finding the right induction cooktop, especially with the money involved.
To simplify, you first need to consider the type of cooktop you want and how you can incorporate it into your kitchen.
From there, you can think about the number and size of cooking zones, power and temperature settings, safety, and overall technology.