If you love cooking as much as I do, you've probably heard about induction hobs — the newest technology in the kitchen.
Gone are the days of conventional cooking, thanks to induction!
But what exactly is an induction hob, and how does it work?
Well, this article is here to answer all that. So read along to find out!
What is an induction hob?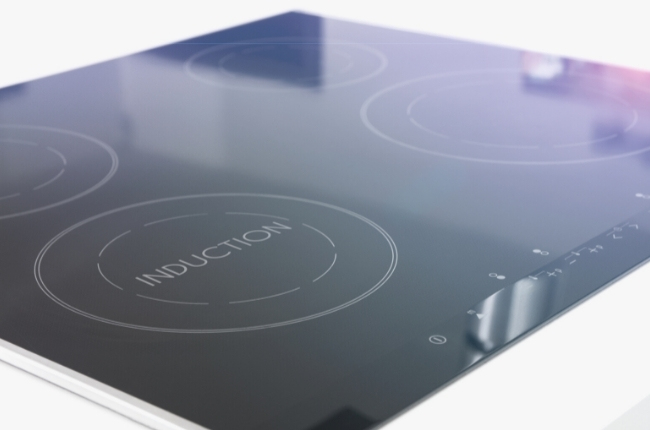 Induction hobs heat the pan directly instead of the hob ring, making them distinct from other cooktops in the market. Many people opt for induction cooking since it is quick and efficient.
So how does it work?
An under-surface magnetic field is activated when you turn on the induction hob. As a result, the electrical energy travels, and the magnetic pan base warms up, making it ready for cooking.
Induction hob pans
Induction hobs operate differently. Hence, you'll need certain kinds of pans.
Flat-bottomed pans are ideal for induction cooking.
You can use flat-based pans made of magnetic metals. Make sure it has a label that says: induction-ready or induction compatible.
Pans with a coil sign at the bottom or those with magnets sticking firmly underneath are also suitable for induction cooking.
Avoid pans with curved bottoms and those without magnetic undersides — these won't work with induction hobs.
What happens if I use the wrong pan?
Used a standard cooking pan? Don't fret!
Using the wrong pan doesn't harm the induction hob. But it prevents you from cooking your meal since the hob won't heat the pan.
So make sure to use a magnetic pan! Otherwise, you'll end up wasting your time.
Advantages of induction hobs
Aside from speed, what makes induction hobs stand out? Well, here are some other pros of induction hobs:
Energy efficient
We all know that gas appliances squander a lot of heat. It heats everything, not just the pan or ring.
But with induction hobs, you'll save up energy as it only heats the pans.
Receptivity
Induction offers accurate temperature control, allowing for more regulated cooking.
It turns on heat almost immediately and instantly stops as soon as you turn it down.
Safer to use
Induction hobs do not release gas into the air and do not catch anything on fire since they use magnetic fields instead of flames.
It also automatically shuts off when the pan is removed from the cooktop, thereby reducing the possibility of leaving it on after cooking.
Easier to clean
Induction hobs are simpler to clean because of their flat surface. You only need a cloth and soapy water, and you're good to go!
Disadvantages of induction hobs
There are always two sides to a coin. Hence, induction hobs also have disadvantages, such as:
More expensive
Induction hobs utilize new technology, making them more expensive than other hobs.
But consider them as investments since they consume less energy than conventional stoves.
Require specific pans
As mentioned earlier, induction hobs require magnetic pans. So you may need to replace your old cookware with new and compatible ones.
Tough installation
Induction hobs have specific electrical needs. So it's best to let an electrician do the installation.
The downside is that it's an additional expense.
Easily scratched
Induction cooktops are made of smooth glass, making them vulnerable to scratches.
Unlike conventional cooktops, induction can't stand wear and tear.
So avoid using sharp objects and abrasive cleaning agents on the induction hob. Simply put, handle it with utmost care!
Clattering noise
Induction hobs use tremendous energy in transferring heat to the pan. As a result, it sometimes produces a clattering sound.
But don't worry! The noise stops once you lower the heat or put food in the pan.
May overcook food
Induction hobs may potentially overcook your food as it quickly heats the cookware. So be careful, especially if you're a first-timer!
How do I know if I have an induction hob?
Easy!
Simply place a magnetic pan on the hob. If the pan heats up, then you have an induction hob.
But if your cookware does not have magnetic fields, try using any magnet and place it at the top. If it firmly clings, then it's an induction hob.
You can also check if the cooktop surface is warm or cool.
An induction hob only warms the cookware and not the cooktop surface. So if it's cool to the touch, it's an induction hob.
Also, some induction hobs may indicate an error signal if you're not using a magnetic pan. So that's another indication!
What does an induction hob look like?
An induction hob is made of smooth black glass and resembles ceramic or electric cooktops.
Since an induction and non-induction ceramic hob look alike, it's hard to differentiate them by merely looking.
Ceramic vs. Induction hob
Ceramic and induction hob are nearly identical. But what makes induction more expensive? Well, let's find out their differences.
1. Functionality
Ceramic cooktops have coiled metal components behind the tempered ceramic glass, which are electronically heated. And as a result, the ceramic surface and pan warm up.
On the contrary, induction hobs utilize high-frequency electromagnets to create a magnetic field, directly heating the cookware, not the cooktop surface.
2. Temperature control
Induction hobs provide more temperature control than ceramic cooktops. Ceramic cooktops take a while to heat up, while induction hobs instantly respond to heat changes.
3. Speed
If we're talking about speed, induction hobs are top-tier!
Ceramic cooktops operate more slowly than induction hobs since heat is lost when warming up the pan.
On the other hand, there's no heat lost in induction cooktops. The magnetic field immediately warms the pan, thereby reducing the cooking time.
4. Pans
As said earlier, induction hobs require pans with magnetic undersides. Contrarily, ceramic cooktops are compatible with almost all kinds of cookware.
5. Safety
Induction hobs are safer than ceramic cooktops.
Induction hobs won't turn on until you place a magnetic pan in the heating zone. Also, the surface does not heat up as quickly as a ceramic cooktop. So there's a minimal chance of hurting yourself.
It's also a perfect choice for families with young children because of its child safety lock feature.
6. Price
Ceramic cooktops are cheaper than induction hobs.
So if you're tight on budget, opt for ceramic ones.
But remember, induction hobs are more energy efficient, making it a wiser option in the long run.
Induction hob: How to use
Now, how do you operate an induction hob?
Begin by plugging the induction hob into a power source. Next, put the magnetic pan on the hob ring and turn on the power switch.
If you have several burner cooktops, choose a sensor that matches the hob ring you're using.
Change the temperature by pressing the plus (+) and minus (-) sensors.
After cooking, turn off the induction hob by pressing the power button.
What wattage is an induction hob?
Now, let's talk about the wattage of an induction hob.
An induction hob's rated power ranges from 1500 to 3000 watts. Yup, it's greater than most household appliances.
It heats up faster than conventional stoves because of its high wattage. Remember that the higher the wattage, the quicker the heating speed.
What is an induction hob converter?
Induction pans require a specific quantity of magnetic metal to function on an induction hob.
But what if you own one with insufficient magnetic metal? Well, not a problem!
An induction hob converter is a flat circular sheet of metal positioned on the heating area of the induction hob. From the name itself, it allows heat transmission to pans with inadequate magnetic metals.
What is the best way to clean an induction hob?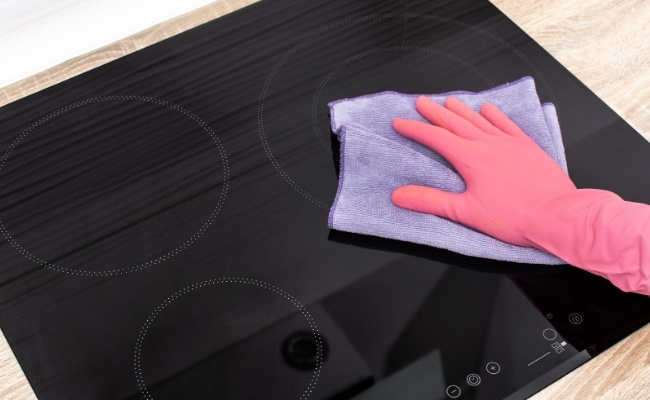 The best method is using vinegar and baking soda.
Simply mix 1 part baking soda and 1 part vinegar in a bowl. Apply the mixture to the induction hob and leave it for 30-45 minutes.
Next, wipe away the mixture using a soapy microfiber towel. Finally, ​​dry it with paper towels and polish it with a damp cloth.
Final thoughts
So there you go!
Induction hob stands out in the market because of several reasons. It expedites cooking while conserving energy. And not to mention, it's safer to use and easier to clean too!
But remember, this type of hob is more costly as it requires magnetic cookware.
But regardless, it is still a must-have!
The question now is, are you ready for a new and faster cooking experience? You decide.