Ever since you've heard about the wonders an induction cooktop can do, you didn't think twice about upgrading your kitchen.
But then induction rice cookers have captured your interest since rice is basically a staple in your meals.
On the surface, they look similar to a modern rice cooker. But they use induction technology to make hot and fluffy rice.
Since you enjoy cooking with your induction stove, you wonder is an induction rice cooker better?
This article will take a closer look at induction rice cookers to help you determine if they're worth the splurge. As a bonus, we'll also delve into the pros and cons of several popular brands to see which comes out on top!
What is the difference between an induction rice cooker vs. regular rice cooker?
Toshiba invented the first automatic electric rice cooker in around 1955. Since then, every household that frequently cooks rice currently owns a unit at home.
It uses direct heating, transferring heat from its base coil to the metal pot to cook rice. Some units even have built-in timers so you can have fresh rice in the morning if you set it up at night.
But when you think you can't improve the reliable rice cooker, Matsushita Electric Industrial Co. figured out a way to incorporate induction technology into the rice cooker by 1988. Earlier versions can cook rice faster and at optimal consistency and flavor.
While modern units can even let you pick a mode to cook your rice, which ranges from sushi to porridge, so you won't have to worry about under or overcooking it.
Similar to induction vs electric stoves, there's also a significant gap between the price point of induction vs electric rice cookers. But if you consider the benefits you get, users believe the cost is worth it.
How does an induction rice cooker work?
It can be intriguing how an induction rice cooker works since it looks similar to a modern one.
Instead of the traditional glass cover, fancier units have fully-covered lids, so it's easier to control the internal temperature. But considering the two rice cookers use different methods of cooking, you wonder:
How can you cook rice in an induction rice cooker?
An induction rice cooker works similarly to an induction stove, with a copper coil where currents pass through to create a magnetic field.
The magnetic field then creates an electric current to generate heat that cooks the rice. Like an induction stove, it will also need a magnetic pot to function – which most induction rice cookers already include.
Using induction technology allows the rice cooker to distribute heat evenly throughout the pot. It can also adjust its temperature so it stays accurate for cooking rice perfectly.
What is the difference between induction and pressure rice cookers?
True to its name, a pressure rice cooker uses the same mechanics as a pressure cooker for preparing rice where the pressure increases the temperature inside the pot, allowing you to cook the rice faster.
It also retains the flavor of the rice inside the pot, so it tastes better even without any seasonings.
You can find a pressure rice cooker pot that's compatible with several types of stoves. But a few brands also offer an electric pressure rice cooker.
RELATED READ: How to use Pressure Cooker on Induction Stove
Not many are familiar with this method, but it's also a good option worth exploring if you have the budget.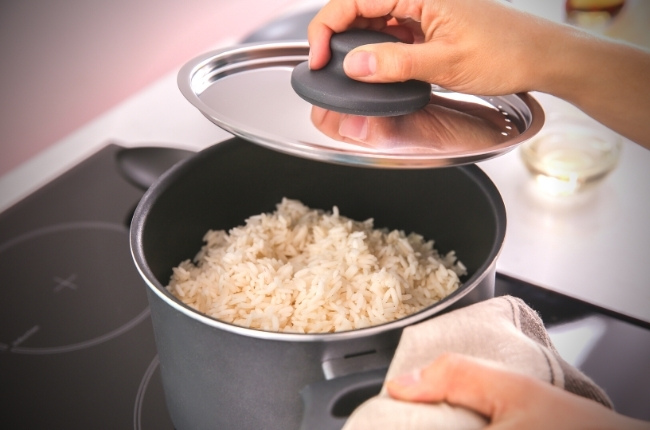 What is the best induction rice cooker?
Now that you know what an induction rice cooker can do, here's a quick comparison of a few popular brands to help you determine which one suits your kitchen best:
1. Sur la Table Rice Cooker with Induction Technology
The Sur la Table SL-5801 Induction Rice Cooker is one of the most affordable brands on this list. It's a straightforward unit that offers 11 pre-programmed functions that include white rice, brown rice, quinoa, soup, stew, hot cereal, and steam. It can hold 12 cups of rice in its non-stick aluminum inner pot.
Its key features include a 15-hour delay timer and automatically keep your food warm after each cooking cycle.
It's a practical rice cooker that does the job, just don't expect it to give the same results that high-end units can provide. Its capacity can only actually hold about 6-8 cups of rice instead of the 12 that's on the label.
It also has no steam drain inside the lid, so you must wipe off the condensation after cooking. But other than that, it's a reliable induction rice cooker without the additional bells and whistles.
2. Panasonic Induction Rice Cooker
The Panasonic SR-HZ106 Induction Rice Cooker integrates advanced Japanese technology, allowing you to choose between 13 pre-set programs to cook rice, porridge, curry, or quinoa in one pot. It stands out against the other brands because of its All-Surface Induction Heating technology to guarantee your food cooks evenly.
It also has a capacity of 5 cups of uncooked rice in its 7-layer inner pan, complete with a diamond coating.
Users like that it functions well as a rice cooker, but it doesn't give the rice a noticeable difference in taste. It does have a heavy and sturdy build since it's made in Japan. Its self-cleaning setting also makes it easier to clean.
If it's a deal breaker, know that its timer also only has a 24-hour setting and doesn't really show you how long each function takes to cook. Its display can also be a bit dim, making it difficult to read. Its fan can also be a bit loud, but most users don't mind the sound.
3. Tiger Induction Rice Cooker
The Tiger JKT-S10U Rice Cooker features the brand's signature "tacook" function, which allows you to cook rice and one main dish simultaneously. You don't have to worry about under or overcooking your dishes since it's also equipped with the brand's Automatic Cooking Logic function – which automatically monitors the pot's temperature.
You can also choose between 11 menu settings, including plain rice, jasmine rice, slow cook, and porridge. Its powerful induction heating technology also allows you to ferment and bake bread, making it a multi-functional powerhouse.
Most users adore its functions since it's easy and convenient to use. They also notice how it improves the flavor and texture of the rice, even when you're using the plain rice setting. But the ultra setting is also highly recommended if you have the time and want to take it up a notch.
Users also like the detachable lid, so cleaning it is effortless. The only primary concern about Tiger's induction rice cooker is that its inner pot tends to scratch and peel, which poses a risk of the coating incorporating into your food.
4. Tefal Induction Rice Cooker
The Tefal RK7501 Delirice Compact Rice Cooker features Fuzzy Logic technology that automatically adjust the pot's temperature and cooking time to produce the perfect rice.
It has 10 preset cooking programs including white rice, jasmine rice, congee, soup, slow cooking, and 12-hour keep warm.
Users like its clean and compact design and how easily it produces fluffy rice. But similar to the Sur la Table rice cooker, it also has no steam drain on the lid, so it can get messy after cooking.
Another downside is it's currently only available on Tefal's Singapore and Hongkong websites. But if you really want to try a Tefal rice cooker, they also have several non-induction variants available from other online sources.
5. Cuckoo Induction Rice Cooker
The Cuckoo CRP-HS0657FW Induction Pressure Rice Cooker is a powerful contender. It contains Fuzzy Logic Technology that automatically detects the grain type and adjusts the cooking time and temperature for optimal results.
It also comes with 16 operating modes that include white rice, brown rice, porridge, and multi-cook function. Its LED display also has a voice guide to act as your kitchen assistant.
But considering the voice guide's setting is only in Korean, it's challenging to navigate and use the machine. You must also press several buttons to use its energy savings and keep warm settings, which can be a hassle.
But despite its downsides, it's an impressive unit that lets you customize how you want to cook your rice. Cleaning it is also easy since its lid is detachable.
6. Zojirushi Pressure Induction Rice Cooker
No wonder the Zojirushi NP-NWC10XB Pressure Induction Rice Cooker is at the top of everyone's list because it's the ultimate appliance you can find.
It combines induction heating, pressurized cooking, Artificial Intelligence, and Fuzzy Logic Technology to give you the perfect rice every time. It also comes with 12 preset functions that include white rice, sushi rice, GABA brown, congee, steel-cut oats, and quick cooking.
Users love how it produces fluffy and shiny rice — you just need to prepare it correctly to get the best results.
Although its lid is detachable, you'll have to check the non-removable parts on it to ensure there isn't gunk caked on. Its size is also pretty hefty, so you must sacrifice a portion of your kitchen counter to store it.
Other brands:
GreenPan also has an induction rice cooker (the Elite 8-Cup)
Are induction rice cookers better?
For a practical method of cooking rice, a regular rice cooker is reliable enough to do the job. But if you want an elevated experience, an induction rice cooker can be an excellent addition to your kitchen.
Its technology allows the rice to cook evenly at a controlled temperature, making it fluffier and more flavorful. Several brands also allow you to cook main courses and bread in the machine, making life ten times easier.
Among the several brands on our list, the Zojirushi Pressure Induction Rice Cooker comes out on top.
Granted, it can cost a pretty penny, but its features and results make it a worthy investment. But if you're looking for a more affordable unit, the Cuckoo Induction Pressure Rice Cooker is also an excellent alternative.