Having an induction cooktop in your kitchen has its benefits, but looking for new cookware can be frustrating.
Since top-quality induction-ready cookware doesn't come cheap, the best thing you could do is to invest in ones that are worth the price.
You've heard about Calphalon cookware for a while, but you've never had the chance to test them out. The brand is mainly known for its hard-anodized aluminum pans, but since they also have other cookware lines available, you'd figure to check them out.
Considering you're shopping for magnetic cookware, can you use Calphalon on an induction cooktop? You'll have to read more to find out.
What is Calphalon cookware?
In 1963, Ronald Kasperzak started Calphalon as an Ohio-based cookware brand that originally sold pots and pans for restaurants and the food service industry.
But in 1968, Kasperzak invented the first hard-anodized aluminum cookware that soon became a sensation in the culinary industry. Their cookware did so well that it had its own following among home cooks.
Demand for their products became so great that the brand eventually decided to make them available in retail stores.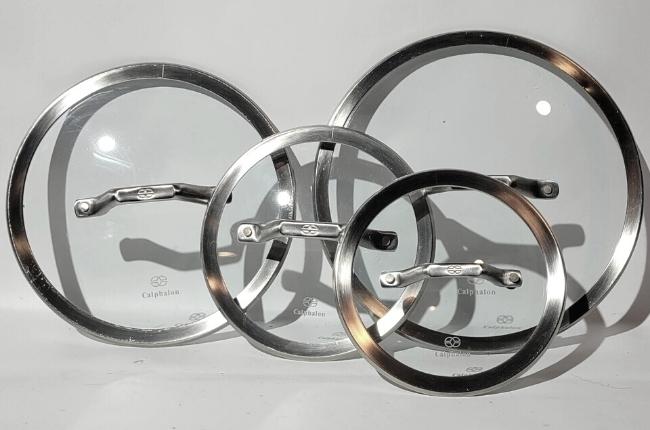 Currently, Calphalon has several cookware lines ranging from stainless steel, cast iron, and ceramic. Along with cutlery, bakeware, and kitchen appliances, home cooks like you can prepare your favorite meals with high-quality cookware.
Does Calphalon work on induction cooktops?
One of the induction cooktops' best features is their ability to heat pans through electromagnetic energy.
This unconventional method is what makes home cooks adore them as it makes cooking more efficient and precise. The only downside is you'll need to use induction-compatible cookware for your cooktop to work.
Calphalon currently has six cookware lines available, including Calphalon Classic, Calphalon Select, Calphalon Premier, and Simply Calphalon.
Each product line contains its own hard-anodized and stainless steel pots and pans that are great for everyday use.
Although not all pans in each cookware set are induction-compatible, you still have a wide variety of options to choose from.
So if you want an in-depth description of a few of their collections, read more below.
Does Calphalon hard anodized work on induction?
Calphalon is well known for creating the first hard anodized cookware, so they would have one of the best quality pots and pans in the industry.
But regardless of how top-quality their pots and pans are, can you use Calphalon hard-anodized on induction?
Hard-anodized pots and pans are typically made from aluminum that went through the process of anodization to create a protective layer that prevents the pans from corroding.
This makes hard-anodized cookware more durable and scratch-proof than untreated aluminum pans.
But since Calphalon hard-anodized pans are aluminum, their bottom layers are non-magnetic, which makes them difficult to use on an induction cooktop. So if you only have an induction at home, these won't be the best addition to your cookware.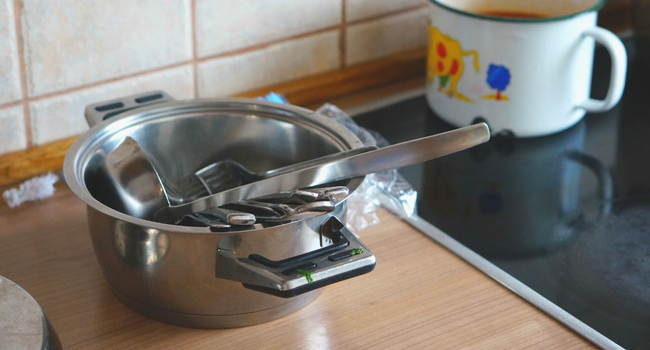 Is Calphalon nonstick induction compatible?
If you're more familiar with Calphalon's nonstick pans, that's because they have an extensive collection that ranges from saucepans, fry pans, griddles, and Dutch ovens.
So if you prefer to have nonstick pots and pans, scrolling through their collection would be convenient since you can find almost any type of cookware you'll need for your kitchen.
The only question is, does Calphalon nonstick work on induction cooktop?
For an untrained eye, it can be difficult to distinguish between Calphalon's hard-anodized cookware from their nonstick collection.
But the truth is, all Calphalon hard-anodized cookware has a multi-layer nonstick surface that makes it easier to fry and sear food. So aside from being efficient and durable, this also means that their nonstick pans are aluminum.
As discussed above, aluminum pans are non-magnetic, so they won't be able to work on an induction cooktop. So if you were planning on getting these types for your kitchen, you still have plenty of options left to choose from.
Does the Calphalon Classic work on induction cooktops?
The Calphalon Classic collection has an array of pots and pans made from ceramic, stainless steel, and hard-anodized cookware.
Their oil-infused ceramic fry pans have a non-stick interior making frying less of a hassle. The only downside is that they have an aluminum base, so they won't be functional on an induction cooktop.
While the Calphalon Classic stainless steel collection has more cookware options, including saucepans and fry pans in various sizes.
The great thing about their stainless steel pans is they're induction-ready as they have a magnetic stainless steel base.
So if you're looking for a new set for your induction cooktop, the stainless steel Classic pans will be a great way to go.
Is Calphalon Premier induction compatible?
The Calphalon Premier line is a combination of stainless steel sets and hard-anodized nonstick cookware.
The Premier stainless steel set includes fry pans, saucepans, saute pans, and stock pots that have a 3-layer aluminum and stainless steel construction to ensure you'll get durable and even heating cookware.
Since their external layer is magnetic, all stainless steel Premier cookware is induction compatible.
Another standout feature about their Premier collection is that it also has a space-saving version for both types of materials. So they're great for small homes and apartments as their flat glass lids make them easier to stack.
But keep in mind that all Premier hard-anodized nonstick sets have an aluminum base, so they won't be compatible with an induction cooktop.
Does Calphalon Select work on induction cooktop?
The Calphalon Select collection is a variety of ceramic and hard-anodized nonstick cookware with a wider selection. It includes a variety of fry pans, saucepans, stock pots, a Dutch oven, and a cast iron skillet for a complete kitchen experience.
The collection also has its own space-saving stainless steel and hard-anodized nonstick sets that are perfect for keeping a kitchen with limited space organized.
The only downside to this extensive collection is that most of their pans are not induction-ready, except for their cast iron skillet and space-saving stainless steel set.
So if you don't mind the design of the stainless steel set, the 10-piece collection is a steal as it already includes fry pans, saucepans, a saute pan, and a Dutch oven that are dishwasher and oven-safe.
Is Simply Calphalon induction safe?
The Simply Calphalon line is a 10-piece hard-anodized nonstick cookware set that features the classic Calphalon design.
It includes two frying pans, two saucepans, a saute pan, and a stock pot that are perfect for daily use. Their nonstick surface makes it easier to cook even the most delicate dishes. While its versatile silicone handles make them safe for ovens, so you can quickly transfer your pans straight from the stovetop.
The only disadvantage of this collection is that it's not induction-compatible as its aluminum base makes it non-magnetic.
You still have plenty of Calphalon induction-ready options; the Simply Calphalon collection is just not one of them.
What do Calphalon induction cookware reviews say?
On their official website, Calphalon has a filter that allows you to narrow down their selection to just induction-compatible cookware to make it more efficient to search for the right pans you'll need.
Most options are from the Premier stainless steel collection, but you can also find a few cast iron selections.
Users seem to love the sleek and durable design that Calphalon stainless steel cookware has. With proper pre-heating, the pans become an effective non-stick surface that makes cooking and cleaning a breeze.
Thanks to its aluminum core, users don't experience any cold spots while cooking, so they can make their favorite meals without a hitch.
Some of their sets can get pricey, but users consider them a good investment, thinking about what you can get in terms of quality and longevity.
The bottom line
Considering Calphalon has been making pots and pans for decades, their extensive collection shows that professional chefs and home cooks value their products.
Although the brand is well known for its hard-anodized nonstick cookware, users adore the durability and versatility of their stainless steel cookware for their induction cooktops.
So if you're looking to add more induction-ready pots and pans to your kitchen, Calphalon is a worthy investment for any home chef.